Mustang Makes Big Splash for 50th Anniversary
In 1964, people everywhere were asking, "Why is there a Mustang on top of the Empire State Building?" And now they are again.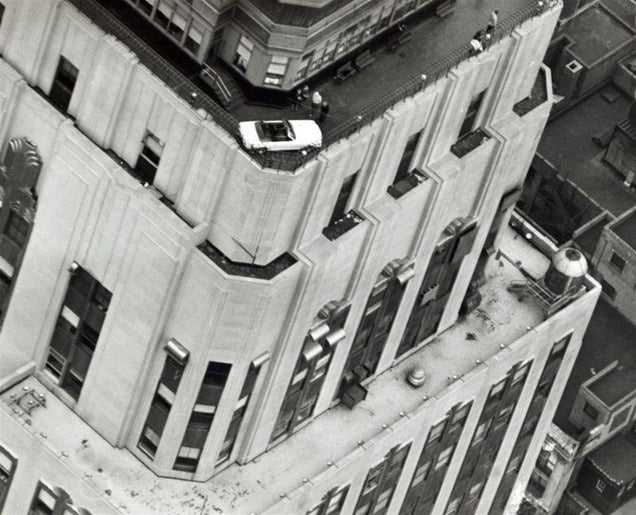 Both Mustangs were cut up into smaller pieces and moved up to the roof in the elevator, where they were reassembled into the full car.
 In addition to repeating history and putting the new Mustang on the top of the Empire State Building, Ford has also released a new special edition to celebrate the Mustang's history. The car is a very limited edition vehicle and was unveiled at the New York International Auto Show late last week. Bill Ford, former Ford CEO and the great grandson of Ford founder Henry Ford, drove the car onto the stage. Only 1,964 units will be produced, and Ford has said that the edition will be among the most exclusive Mustangs ever manufactured, with Bill Ford remarking, "It is an extremely limited edition, for our most diehard enthusiasts."
The 50th Anniversary Edition is based off of the 2015 Mustang GT fastback, but it will have a few, yet undisclosed, performance upgrades, as well as a few unique exterior design features. The car will be available with a six speed manual or automatic transmission. Buyers will be availed with only two colors, white or blue. The model will go into production when the 2015 Mustang does, later this year, and the 1,964 model units produced will the be the first off of the production lines.
[inpost_gallery thumb_width="200″ thumb_height="200″ id="" random="0″ group="0″ border="" thumb_margin_left="3″ thumb_margin_bottom="0″ thumb_border_radius="2″ thumb_shadow="0 1px 4px rgba(0, 0, 0, 0.2)" js_play_delay="3000″ post_id="78842″ type="yoxview" sc_id="sc1398459341785″]